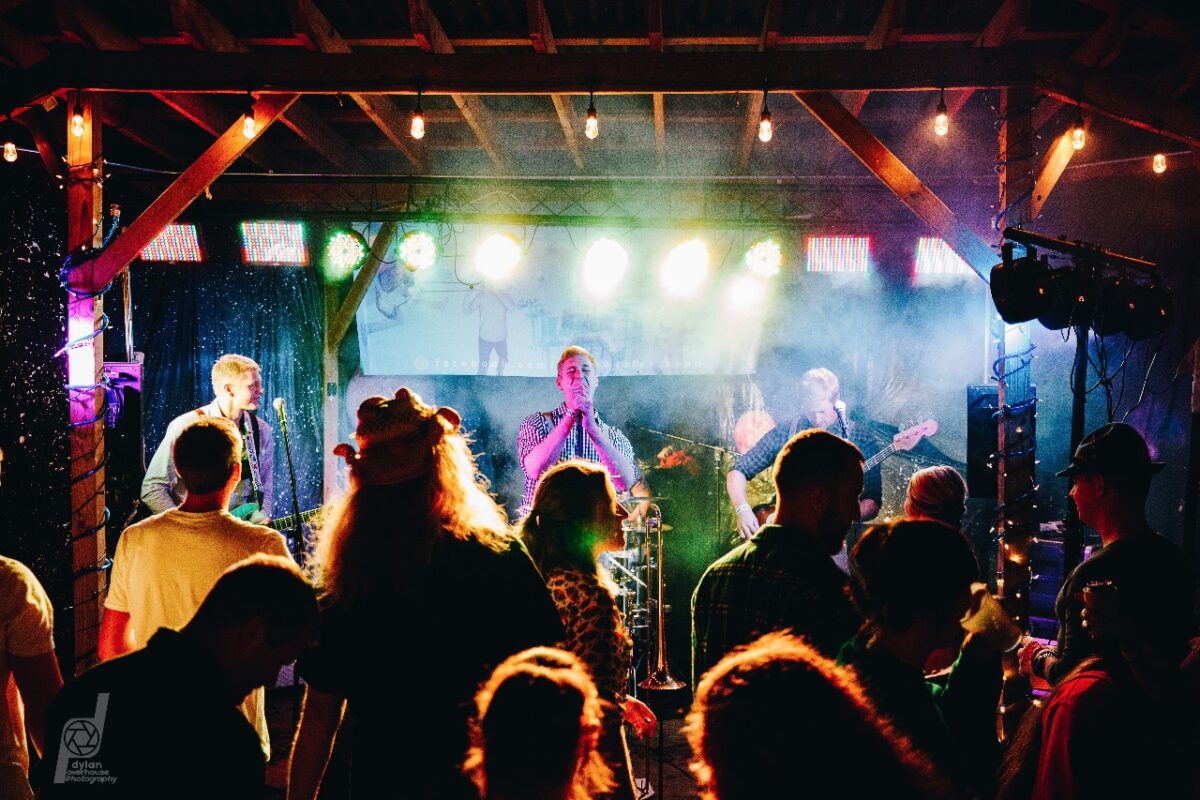 La Crossse, WI | July 14, 2020 – La Crosse Local, Dylan Overhouse Productions, and Mike Makes are hosting its first Garage Show featuring the band The SpaceHeaters. The impetus for the soon to be ongoing shows is in response to COVID-19 and to put money into the pockets of area musicians. The partnership has brought together area videographers and La Crosse Local, a new area podcast promoting the arts, food, and music in the La Crosse area, now with 36 episodes published and dozens more completed. Visitors to lacrosselocal.com can listen or download the podcast at their preferred podcast app store.
Currently, the band and entities are donating their time to get the shows going, but see the series as vital entertainment to support local musicians, and also an opportunity for local businesses and individuals to advertise and support the arts in La Crosse County.
The inaugural LIVE show will be taking place on Wednesday July 15, 2020 at 7 pm and will be streamed live at the La Crosse Local Facebook page, viewers and supporters may donate via paypal.me/lacrosselive.
Shows are being streamed live with bands playing in area garages with COVID-19 precautions in place, locations of the shows will not be announced and will only be available on Facebook, high definition versions will be available on Youtube at a later date. A full schedule of events will be coming soon.
Interested businesses or individuals may reach out to Amy Gabay for advertising opportunities including custom live graphics during shows, or may donate directly to this week's band at paypal.me/lacrosselive.
About the The SpaceHeaters
The SpaceHeaters is an original horn heavy funk-rock band, formed in the driftless valley with the sole mission of delivering tasty grooves and unparalleled performance. spaceheaters.bandcamp.com
About La Crosse Local       
La Crosse Local is an arts, food, and entertainment podcast and publication for La Crosse County and its surrounding communities. Find us online at lacrosselocal.com or in your favorite podcast app. lacrosselocal.com
About Dylan Overhouse Productions
Dylan Overhouse Productions brings a unique and creative vision to videography and photography packages for artists, commercial entities, and the community of La Crosse, Wisconsin, and beyond. dylanoverhouseproductions.com
About Mike Makes 
Mike Makes is a freelance video, photography, and motion graphics service based in La Crosse Wisconsin creating commercials and promotions for area businesses and artists. mike-makes.com
Media Contact
Amy Gabay
River Travel Media
Media Director
608-799-5334
amy@rivertravel.org
rivertravelmagazine.com
lacrosselocal.com
Subscribe to "La Crosse Local" on your favorite podcast app. If you like us, rate us five stars
. We appreciate it!
La Crosse Local is an arts, food, and entertainment podcast and publication for La Crosse County and its surrounding communities.
Find us in your favorite podcast app.